From June 5 to 17, 2017, the "Macao International Innovation Festival", which is hosted by the Macao Electronic Commerce Association, was held at the Banyan Tree Hotel in Galaxy, Macao. Shenzhen Mary Photoelectric Co., Ltd. fully supports this event, provides a stage background display, shows the general event totally. MRLED also got attentions by the guests.
"Macao International Innovation Festival" attracts a large number of domestic and foreign academic stars to attend. At this meeting, guests gave lectures and discussed in round table about the latest achievements in electronic technology, the latest concepts and applications of Internet economy, the application of new technologies in the media industry and how to build "Big Bay (Zhuhai, Macao, Shenzhen and HongKong)" Silicon Valley and other topics. The stage background display sponsored by MRLED, perfectly shown the whole process.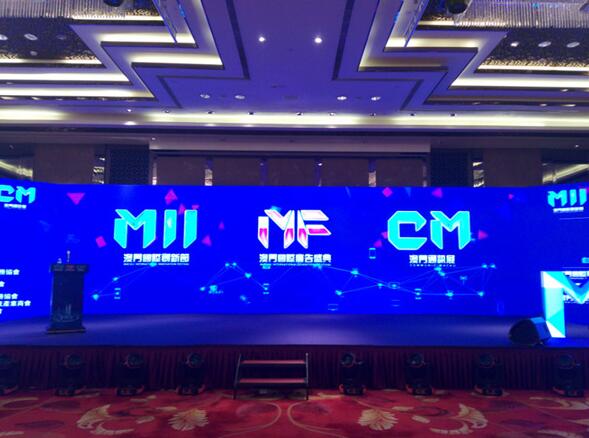 The stage background screens provided by MRLED
In this event, The LED display sponsored by MRLED is the most popular R series of rental products, 3.91mm pixel pitch , more than 90 square meters area, three screen body splicing technology is used, the middle screen ratio is 16: 9, both sides of Auxiliary screens body ratio are 4: 3. Each screen plays kinds of required dynamic, static image data for this meeting, and according to the needs of the scene, the screen can be freely and seamlessly switched. The display effects are highly appraised by the organizers and guests.
Activity site
In this conference, Mary photoelectric also as a representative of the LED display industry enterprises, is invited to participate in live keynote sharing. Mary photoelectric spoken-man gave a "small pitch products and future life" keynote speech, and introduced details of the MRLED brand culture, product positioning and characteristics, market layout and so on. After listening to the presentation of MRLED, On-site guests communicated with MRLED representative one after another, a customer who purchased MR display is happened in the event, he constantly praised the MR product quality and reliable service, and initiatively introduced MRLED to other guests.
MRLED theme sharing
MRLED base on the products , to meet customer demand as the first standard, to ensure product quality as the first requirement, to sincerely manage as the first guidelines. Hot June, charming MRLED, wonderful with you! MRLED invite you to meet in Xi'an and Beijing!