"Customer's first choice, Industry model" is vision of MRLED. In order to achieve this vision, MRLED has been with high standards to strict on itself. It has gotten recognition in this industry and with the trust of customer. In this reason, MRLED has won many prizes.
A few days ago, MRLED has good a news! MRLED pass the "Shenzhen well-known brands," continuing-trial, and won "well-known brands in Shenzhen" honorary qualifications again! Nearly the same time, Beijing Armed Police Corps combat service command center' small pitch LED display project" made by MRLED won the "LED industry ten demonstration project" honor in "the fifth LED industry Billboard" selection,
It is reported that China LED industry Billboard event has been held for four sessions consecutively, the event is held by the provincial semiconductor lighting industry joint innovation center (GSC) and the provincial semiconductor light industry association. The selection is base on objective and reliable data, through public solicitation, voluntary reporting, institutional recommendations, internet voting, expert review and other procedures to select outstanding people, enterprises, products and engineering in LED industry to establish industry model and push industry progress.
MRLED use project "Beijing Armed Police Corps UTV1.25 small pitch LED display" to won the "LED industry ten demonstration project" .This project uses fine pitch series- UTV1.2 model products, pixel pitch is 1.25mm. This project is one of the national government's fine pitch project, with a total area of 30 square meters. The project is of great significance to the National Armed Police Corps, but it is also a milestone for MRLED to enter into armed area. The product quality is strict, the function request is rich, the project has adopted a number of leading domestic advanced technologies, including dual backup for signal and powers, wireless connection technology, color gamut correction technology, high gray high refresh, chroma reduction to make it more realistic and full HD, use die-casting aluminum pure 16: 9 ratio of the box, the ratio of the human eye pupil, the proportion of gold to achieve visual enjoyment, and atmospheric fashion display effect. It is MRLED's front maintenance product, installation and maintenance is more convenient, brightness level can be automatically adjusted. Display multi-project function operate together, so that the entire combat command center can works easy, and get the prise of the Armed Police Corps leaders!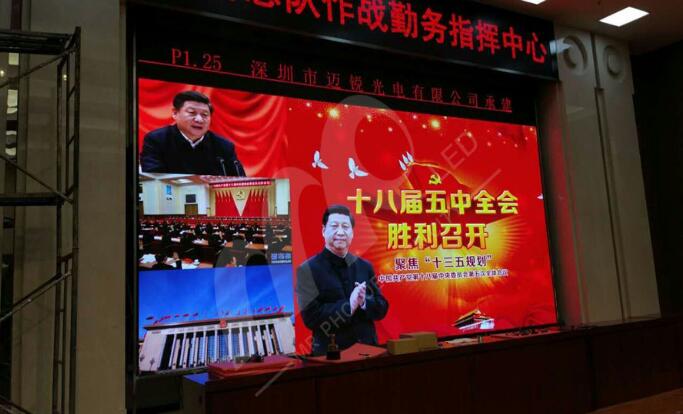 The honor is from everyone! MRLED will work harder in 2017, provide customers with better, higher value LED display! Help China's optoelectronic industry, MRLED always doing well!